With staff and students from over 70 countries, IÉSEG is committed to highlighting the importance of cultural diversity and to increasing the proficiency of our students in working across cultural boundaries.
The School has already put in place a wide range of cultural, social and language-related activities to help ensure the successful integration of international students and to enable French students to benefit from the rich cultural diversity of the 1,300 international students on the campuses in Lille and Paris.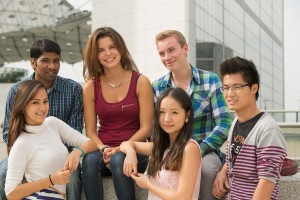 To ensure that students benefit from this diversity and are well prepared to work in an increasingly international business environment, the School has also introduced a number of specific elements into the curriculum of a number of programs (and which complement the different opportunities students already have across all programs to gain international study abroad/professional experience) . For example, students in the bachelor cycle of the Grande École program (3 years) follow courses on cultural diversity and intercultural communication/management in their first year, as part of a 'Cultural Diversity Passport' they will be asked to complete during their studies.
During the Master cycle of the Grande École program, students will also have the opportunity to take a number of relevant electives including the "international manager in vivo" course, and to work towards a 'Cultural Diversity Certificate' (if they complete the relevant electives and a related dissertation/thesis or work experience, and a personalized intercultural development plan).
International students coming to IÉSEG also have the possibility to use the "diversity icebreaker" a tool created by a Norwegian psychologist, which can be used to help intercultural communication and team development. They can also benefit from a wide range other social, cultural and language based activities such as those developed and led by the School's language department and coordinated by Carmen Campillo. These include:
PASO DOBLE project, created for French beginners in Spanish and Spanish-speaking students who want to learn French. Students work together in pairs in order to help them progress in French and Spanish and raise awareness of their respective cultures.
TANDEM : Again with the view to improving the use of language, the TANDEM project proposes regular meetings between the French and exchange students. The students have to meet several times during the semester at their convenience to spend time together to practice speaking and learning about each other's culture.
LES « JEUDIS DU MONDE » (literally « The Thursdays of the World »). For one day, international students become ambassadors of their country with a stand on the school premises where they present their cuisine, history, cultures, traditions …French students participate in each group.
DRAMA and DANCE: IÉSEG proposes sessions to create sketches and to perform in short theatre plays with the foreign students. Students can act out a play using the languages learned at the School whilst the exchange students can do it in French. It also gives students the opportunity to present traditional dances from their countries.
« GAMES EVENINGS » :Game nights are held at the school several times during the year. The aim is to invite French and exchange students to spend a pleasnt evening together whilst playing games from different countries.
« WORLD CUISINE » EVENINGS : These « gastronomic moments » are an opportunity for our international students to make the specialties from their countries known to everyone at IÉSEG.
« LE PETIT JOURNAL » :The school offers students the possibility of trying their hand at producing a newspaper with illustrated articles and written in different languages. It is published on a Facebook page called « IÉSEG – Le Petit Journal » which allows students to like, comment and share.
The goal of such social and cultural activities is not only to improve the integration of foreign students at the school but also to open the world up to French students. And also to encourage them and get them used to being interested in the different cultures that we are we are fortunate to welcome at IÉSEG and therefore create a richer environment.
In parallel, IÉSEG staff also have the opportunity to take part in intercultural skills training entitled 'Dealing Daily with Diversity' which has been put in place by the School.
Intercultural skills at IÉSEG