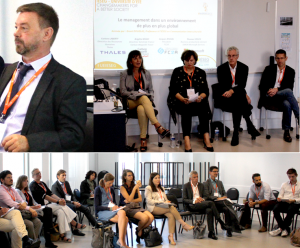 Rountable participants :
Grant Douglas, Lecturer Intercultural Communication, IESEG/ICIE
Corinne Laberty, Human Resource Director, Thales
Brigitte Nisio, General Director, Carlson Wagonlit Travel,
Jacques Rivoal, FC2A (ex Managing Director of Volkswagen France)
Thomas Stoltz, Director Business Productivity Domain Microsoft Services
Aline Scholz, Corporate Relations, IESEG/ICIE
After a brief introduction of each of the participants, the roundtable on the subject of « Management in an increasingly global environment » touched on three questions on which each of the speakers elaborated, before opening up the debate to the floor:
Question 1: What exactly is the diversity you have to manage in your companies?
Thales associates diversity with inclusion. Each person must keep the qualities that make them unique and creativity within teams needs to be ensured by encouraging the diversity of backgrounds of their members. For Carlson Wagonlit, diversity as such is not seen to be an issue as it is part of the DNA of the company. A real hot topic for the company is that of the parity between men and women as 75% of the staff are female. For FC2A, language learning is important as it represents a real plus on the job market. But, culture is much more than simply learning the language and the historical, sociological and religious aspects linked to diversity also have to be taken into consideration. For Microsoft, diversity is best seen through its recruitment policy.
Question 2 :  What specific training have you put in place to help managers deal with increasing diversity?
Thales has a person whose job is to support and encourage diversity within the company and training about cognitive biases is compulsory for all managers. At Carlson Wagonlit, diversity training is on a voluntary basis and there is a system of conflict management in place. For FC2A, intercultural training is seen as very important to help people understand what is hidden behind stereotypes. Microsoft looks at three evaluation criteria for its employees, over and beyond the individual evaluation; each person is evaluated on how they contribute to the results of others and how they capitalize on the results of others.
Question 3: Which tool in particular would you recommend managers to have available to them in their intercultural toolbox?
For Thales, working on unconscious biases is the key. Carlson recommends having to hand books such as « Kiss, Bow or Shake Hands » by Terri Morrison. For FC2A, the most important thing is to develop curiosity to stay open to other cultures while Microsoft promotes self-understanding and self-awareness as the essential starting point to dealing with diversity.
IESEG Summer University Roundtable, Paris June 22nd