Dr. Joel A. Brown is the Chief Visionary Officer of Pneumos LLC, a management consulting and coaching company based in San Francisco, USA, specializing in cultural intelligence, leadership, and organizational strategy. As a change agent, Joel works strategically with organizational leaders to cultivate innovative, creative, and adaptive environments where the cultural genius of everyone can be harnessed and leveraged successfully.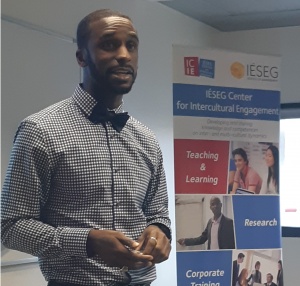 Taking advantage of Joel's presence on campus to teach the intensive module "The Art of The Personal Narrative: Storytelling For Leaders", ICIE was honoured that he accepted to give an interactive presentation for staff on Thursday 25th October. The presentation was entitled "Dialogue – the Firestarter for Leveraging Diversity in Education". In his own inimitable, educative and fun way, Joel presented a number of ideas and activities that allowed the participants to identify the skills and mindset necessary to facilitate dialogue and to explore ways of improving interpersonal dynamics in our communities and generating greater emotional, physical, and cultural safety.
Let's hope that we can use this talk to motivate us to go forward with the courage, curiosity, humility, empathy and adaptability, mixed with a good dose of resilience and grace, that will enable us to truly engage in meaningful intercultural dialogue.
ICIE's First Practitioner Talk