On June 7th , IESEG Corporate Relations, in collaboration with ICIE, organized a corporate breakfast in the framework of its IESEG Companies Partner Club. This breakfast-workshop was on the theme of Intercultural Dynamics in Companies and more specifically on the question of how best to leverage the positive dynamics of diverse teams.
The workshop was organized by Aline Scholz, corporate relations manager and run using the World Café method by Grant Douglas and Pascale Schmidt-Dubois, all three ICIE members. Participants collectively reflected on three questions: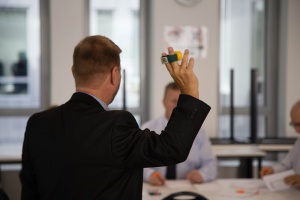 1) What are the challenges you are currently facing in your professional context that are linked to intercultural communication?
2) What are the tools and concepts which you are already familiar with or which you already use?
3) How can you leverage the positive dynamics of your intercultural teams?
The exchanges were rich and lively and generated numerous ideas. They also brought to light a certain consensus around the importance of training and life-long learning in order to bring out the best in multicultural teams.
We hope that this is only the first of many such events that ICIE and IESEG Corporate Relations can organize together.
Corporate Breakfast: How Can We Best Leverage the Intercultural Dynamics in our Teams?